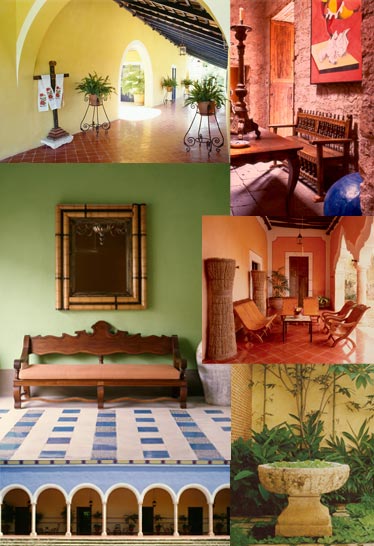 Mexican Design Books Series
by Karen Witynski & Joe P. Carr
Gibbs Smith Publisher
With eight titles, award-winning authors Joe P. Carr and Karen Witynski Carr's Mexican book series is a captivating source of design inspiration, inviting you to step into the cool, tiled interiors and cobbled courtyards of old country haciendas, Mexican colonial homes, rustic adobe ranches and tropical beach houses.
In brilliant color, the series celebrates the architectural details, furnishings, natural materials and traditional building methods that reflect the rich heritage of Mexican design.
Incisive text reveals the authors' knowledge and passion for historical details: From the nuances of buying and restoring Mexican antique furniture to the remarkable revival of Mexico's colonial haciendas, the series provides readers with detailed information, sources and travel recommendations.
Beginning in 1997 with their first book, Mexican Country Style, Joe and Karen remain steadfast on their mission to unveil innovations in the fast-growing Mexican design arena. Their popular series is available worldwide through major bookstores, amazon.com, or direct from the publisher, Gibbs Smith. See Book Orders.
Click on a title to read a description of each book.